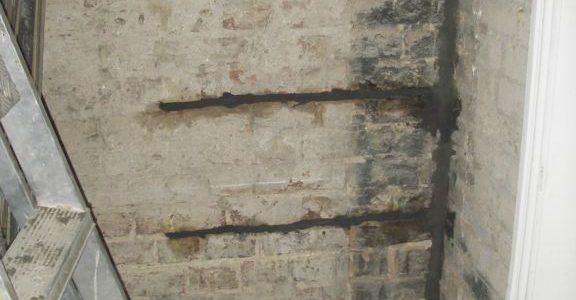 Bed Joint Reinforcement London
Newman's are an Approved Designer and Installer of one of the leading Remedial and Repair Suppliers; Twistfix.
We were given a very short time scale to design and have approved a specification for the main contractor who was on site and being held up on the full refurbishment of a 5 storey house in Kensington, The property was being converted into a luxury 5 storey house with a 2 storey basement, it was found that the rear outrigger of which was being converted into a lift shaft, had no connection to the main structure allowing it to act freely and move to its own accord giving the potential for a partial or full collapse.
We attended site, put a specification together and it was clear that bed joint reinforcement by means of crack stitches that were 2.5m's long drilled back into each side of the structure and fixed into sound masonry using a combination of thixotropic cementitious grout and epoxy acrylate resin.
With such deep excavations so close to the structure's foundations absolutely no risks were taken and over 140m's of bed joint reinforcing was installed giving a permanent restraint that was guaranteed against failure for 20 years by one of the very few genuine construction insurance industry schemes IGL, that Newman's are proud to be approved by.
To find out more about this project or for general advice or information Contact Us today.