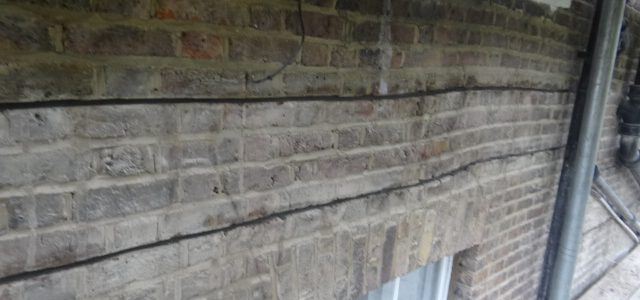 Bowing Masonry – London
Structural Repairs to residential properties are a field that Newman's specialise in especially to Victorian and period properties. With a vast amount of London's housing being classed as a period property it is no wonder that Newman's are regularly carrying out Structural Repairs to repair Structural Defects such as Lintel Failure, Bowing Walls, Bay Window Restraint and general cracking.
Newman's were once again called upon to carry out a Structural Survey to a 5 storey Victorian house in Islington, North London which was suffering from a range of Structural Defects causing the property to crack on the front and rear elevations.
We carried out CCTV drain inspections to assess whether ground movement had occurred due to a drainage failure which confirmed that there weren't any issues with the drainage washing away the soil below the foundation.
The front elevation was suffering from Lintel Failure which caused the masonry to bow and pull out from the main structure. As well as Lintel Failure localised cracking had occurred to the brickwork supporting the steps into the property.
Twistfix Bed Joint Reinforcement was installed above areas of Lintel Failure which creates lintels in the bed joint that allows us to create load bearing beams without the need for the removal of the existing failed lintel. Cracking to the steps was repaired and restrained with the installation of Twistfix crack stitches which is again another method of bed joint reinforcement and stitches both sides of the separated masonry together and resists further separation. In some instances it is not possible to install helical bar we utilise the Twistfix patented 450mm pinning tie to resist further cracking.
The Rear Elevation had suffered with Lintel Failure also but combined with Outward Movement the cracking was much more severe. The masonry had bowed due to there being very little connection between the floor joists and the masonry. This is very common in properties of this age and often it is considered that a rebuild is the only option.
Using Twistfix Lateral Restraint ties we are able to provide a mechanical connection between the external masonry and the floor joists which will resist the Outward Movement and leave an almost invisible repair. As well as tying into the floor joists cracks had appeared at the junction between the external masonry and the internal partition walls and again Twistfix lateral restraint ties are used to tie the external masonry to the internal partition walls.
Once the Structural Repairs had been carried out repointing and plastering was carried out to provide an almost invisible repair.
All of our works are covered by a genuine insurance backed guarantee and this project was insured against further cracking and outward movement for a period of 10 years.
Newman's can help to diagnose structural defects, cracking and movement by arranging a free Structural Survey, contact London and the south East's leading structural repair specialists for help, advice and peace of mind Call 0333 444 0154 or Email info@newmans.com