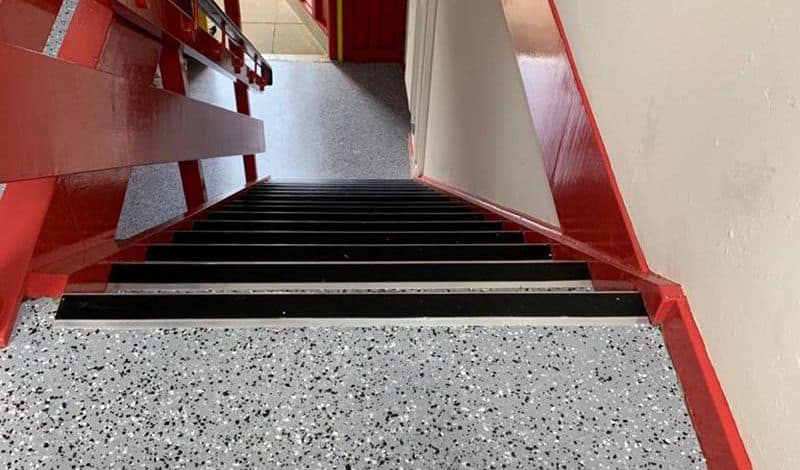 Internal Communal Flooring Solution
Newman's were asked to come up with a scheme to provide new communal flooring solution to internal landings and stairs in over sixty blocks of flats in Northampton.
As well as looking old and tired, the existing lino and vinyl flooring was lifting in a lot of places and causing trip hazards. So, as part of the maintenance programme, they needed to be replaced and upgraded to modern standards. Newman's consulted with the client and the brief was for a hard-wearing surface that was easy to for the cleaners to clean but did not cause any issues when cleaning with water. Because the Polyac RAPID system from Steadfast is fast curing, it provides a perfect solution for communal flooring areas such as these, where residents require continued access to their homes. Each coat cures and is trafficable after just 20-30 minutes, causing minimal disruption.
We presented a selection of samples showing various colours, textures and finishes available with the system to enable the client chose the best fit. A grey coloured coating with a black, grey and white fleck.
With some of the internal stairs being concrete and some of them being timber we had to provide two solutions that would result in the same finish.
For the concrete areas, the existing floor covering was remove and Polyac primer for concrete was applied. Once cured, Polyac 55 was applied to level out any unevenness. Once this had cured grey coloured the Polyac BDM membrane was applied. Before this had cured it was broadcast with the 5mm fleck to give the required decorative finish. This was then sealed with the Polyac 61 clear, flexible topcoat.
For the timber areas, the existing floor covering was removed, primer applied and then fleece mesh was installed over the joins to protect against cracking and to assist in providing a seamless finish. Once again, Polyac 55 was applied to for levelling, followed the grey BDM membrane, the fleck and Polyac 61 flexible topcoat to give exactly the same finish as with the concrete.
For health and safety requirements, the stairs then had new bullnoses fitted.
The client and the residents were extremely pleased with the result.
See the gallery below for a few images before, during and after installation.