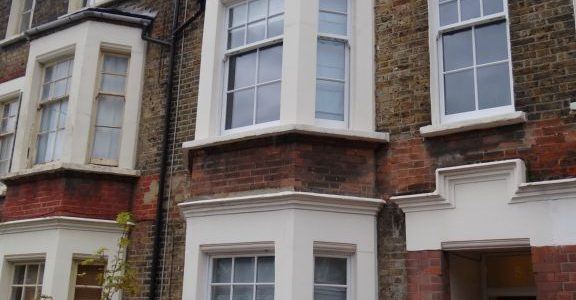 Masonry Repairs London
Newman's were once again called upon by a private residential home owner who has recently purchased and in the process of renovation this 3 storey Victorian property requiring Masonry Repairs.
Our surveyors carried out a Structural Survey which included non-intrusive visual inspection and site investigations to determine the cause of the movement and cracking.
It was found that there was a lack of Lateral Restraint the two storey bay windows to the front and rear of the property which was causing it to rotate outwards. As well as Outward Movement it as apparent that the lintels had failed which is a common defect to this type of property.
Masonry Repair scheme was designed incorporating the Twistfix system which included the installation of 6mm helical bar encompassed within WHO-60 grout creating masonry beams within the bed joint which were drilled into the internal masonry tying the bay into the main supporting walls resisting further outward movement. Masonry Beams also distribute loads across the structure and are used to repair Lintel Failure.
Areas of repointing were also undertaken due to weathering of the bed joints which caused much of the mortar to become lose or missing. A traditional lime mortar was used to match the existing mortar.
The repair was guaranteed for 10 years against failure by an insurance backed guarantee.