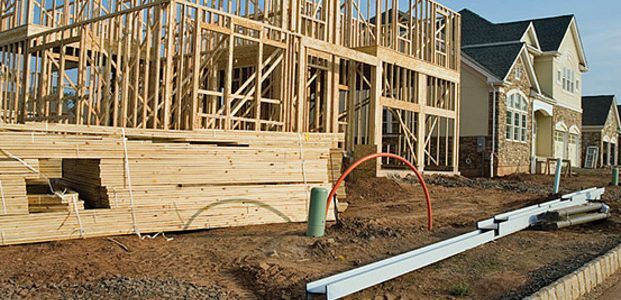 Replacement of Inadequate Timber Frame Wall Ties
Following a failed National House Building Council (NHBC) inspection, due to inadequate timber frame wall ties on a new housing estate in South Wales, Newman's were selected to rectify the situation.
During the NHBC inspection it was found that the 160 properties, which have a timber frame construction, were not structurally sound because their brick facades had not been effectively secured to the timber frames but had simply been nailed to the adjacent plywood sheeting.
This is a common defect in new timber frame construction where the main structure of the building is effectively a self-contained timber frame with an external brick facade. In order to ensure structural integrity and to protect against the bricks falling away from the building, the bricks need to be tied to the timber frame at regular intervals. In this development, by one of the UK's largest house builders, the method used was inadequate. The developers contacted Twistfix, the leading supplier of specialised building products who in turn recommended Newman's to carry out the work.
Twistfix manufacture and supply timber frame wall ties. These are highly engineered, self-tapping, stainless steel rods that are incredibly efficient and the most flexible available on the market today.
A high degree of skill is required in wall tie replacement. First, the structural, timber studs have to be located in order to ensure a secure fixing point. We then install the wall ties at a rate of 4.4 per square metre and carry out random tensile tests on at least 10% to ensure that they meet performance requirements.
When retro-fitting wall ties on existing buildings the wall ties are inserted through the centre of the brick because the strength of the existing mortar cannot be guaranteed. However, with this development the house builder was able to guarantee the strength of the existing mortar because it was brand new. We therefore inserted the Twistfix, CE-Marked wall ties into the mortar bed of the brick facade and into the timber stud. This provided an extremely secure, screw-in connection. Resin adhesive was then used to encapsulate the wall tie into the mortar bed, followed by a layer of mortar which was exactly the same as the original. This provided a completely invisible remedy.
Using remedial wall ties has saved the house builder tens if not hundreds of thousands of pounds and a huge amount of time as their only other option was to take down and rebuild the brick facades.
Installing timber frame walls ties uses the same technique as that demonstrated in the video below but without drilling the pilot hole into the timber.
Remedial Wall Ties
Newman's can help to diagnose structural defects, cracking and movement by arranging a free Structural Survey.  Contact London, the South East and the South West's leading structural repair specialists for help, advice and peace of mind.