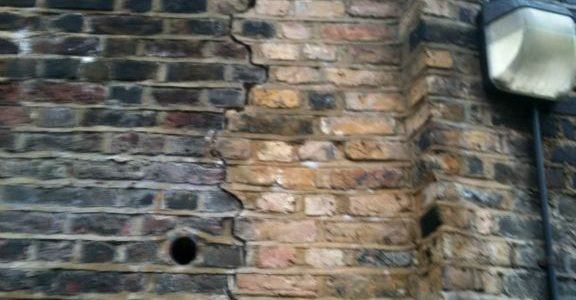 Retaining Wall Restraint – North London
Newman's were called upon by a structural engineer who had surveyed a large retaining wall that was showing signs of major distress with cracking and bowing of the wall putting the structural integrity of the masonry and buildings beyond it in jeopardy.
We were asked to design a lasting Structural Repair Solution that would restrain the wall and prevent further lateral movement and separation of the brickwork.  Along with our workmanship guarantee the client requested an insurance backed guarantee to cover the repairs.
Prior to the design of a repair system we carried out a range of site investigations. Soil investigations were carried out at various locations along the wall so that we could be sure of the soil conditions. The services were CAT scanned to mark their location and drainage behind the retaining wall was inspected with a CCTV drainage test to ensure there were no failed drains.
On completion of the site investigations our in house team of experienced surveyors and engineers designed a repair scheme that would incorporate the Twistfix Helibeam system and Cementitious Sock Anchors to restrain the bowing wall, distribute structural loads and tie the cracked brickwork.
Twistfix Helical bars were installed into the bed joints to create deep masonry beams within the existing brickwork. This method of reinforcement ties the cracked brickwork together and also distributes the alternating structural loads. It also allows some degree of flexibility to prevent 'hard spots' occurring which could create further stress to the masonry.
To areas affected by severe lateral movement, sock anchors were used to tie R.S.J's to the brickwork into concrete pads behind the retaining wall  achieving extremely high pull out loads as required by the engineers.
Areas of Deep Bed Repointing were also carried out using special lime putties which prevent moisture penetration and damage caused by the freeze thaw cycle .
The works were carried out in a 3 week timescale which saved the client considerable costs, disruption and time compared to traditional remove and rebuild techniques previously proposed.