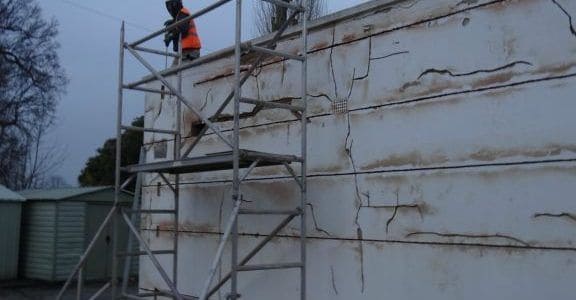 Structural Repair West London
Newman's were asked to competitively tender to carry out the design and installation of bed joint reinforcement and parapet wall stabilisation to a community centre in West London which had suffered multiple areas of vertical and horizontal cracking.
Our surveyors carried out a detailed Structural Survey to diagnose the cause of the cracking and it was found that the building was built on made up ground and had suffered from settlement of the foundations.
Soil investigations were carried out by our survey division to confirm the makeup of the ground and monitoring pins were installed to monitor the movement. After six months of crack monitoring there was very little movement and a repair solutions was designed.
Twistfix Bed Joint Reinforcement was specified in order to tie the cracked masonry together and distribute the structural loads. With the masonry beams wrapped around the entire building the masonry acted as one reinforced panel which resisted structural movement and further settlement.
The parapet wall was found to be separating from the main structure leaving horizontal cracks at the fracture and some areas of the parapet becoming unstable.
Twistfix 1200mm grout ties were installed vertically through the coping stone into the parapet wall and then into the main structure creating a grouted column reconnecting the parapet and the main structure.
Areas of de-bonded render were removed and hair line cracks were raked out and injected with resin prior to re-rendering.
The works were completed within two weeks during the school holidays to minimise disruption to the community centre and the works were completed well within the budget.
Once the Twistfix helical system was installed the structural movement was restrained and a 10 year IGL insurance backed guarantee was issued against further cracking.