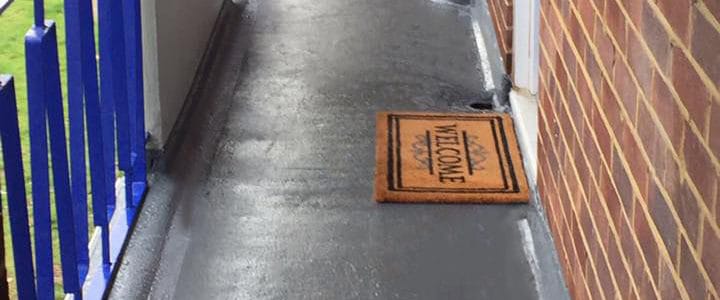 Walkway Repair With Minimum Disruption To Residents
Newman'ns were contacted by Arun Council who were looking for a contractor to advise them of the best and most practical way to repair the issues that they had with damaged asphalt walkways on three blocks of flats. Newman's had several meetings with the client both on site and at their offices. Examples of previous walkway repair projects were shown along with samples of how our balcony and walkway repair system works.
The Problem
The asphalt walkways had cracked and deteriorated in such a way that water was penetrating the coating and causing the steelwork inside the concrete to corrode. The concrete was then spalling due to the steel work expanding.
Also, at the rear of the properties, lintel failure had occurred and cracks were enabling water penetration into the flats.
The Solution
The solution was to install a fast cure, waterproof walkway, the Vulkem Quick Balcony System. This system was recommended because as well as being extremely effective, its fast cure time of approximately one hour, keeps disruption to residents down to an absolute minimum.
The Vulkem system was installed to all three decks. The cracks in the balcony floor were raked out and injected and the new membrane installed over the top of the existing finish. This has the added benefit that the tenants can still use the walk ways to enter their properties.
Once the walkways were made waterproof the concrete repairs were completed using Steadfast Jahn M90 Concrete Repair Mortar. An anti-carbonation coating was then installed over the top to complete the aesthetics of the underside of the balcony.
Lintel repair was completed with the installation of Steadfast Thor Helical masonry beams above the rear lintels. These distributed the loads and all cracks were raked out and injected with a colour matched thixotropic grout.
All external surfaces were cleaned using the DOFF superheated steam system before fully painting all sections in the councils specified RAL colours to allow a full restoration of the surrounding areas and bin stores.