---
Restored To Its Former Glory – Structural Repairs, Paint Removal and Brick Restoration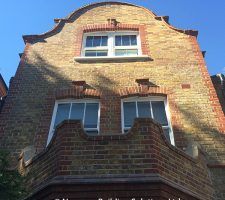 Newman's were contacted by the owner of this victorian property in Lambeth, London SW2. She had been advised by her insurance company to find a lateral restraint specialist to carry out repairs to the front of the property where lateral movement, cracking and sagging had occurred.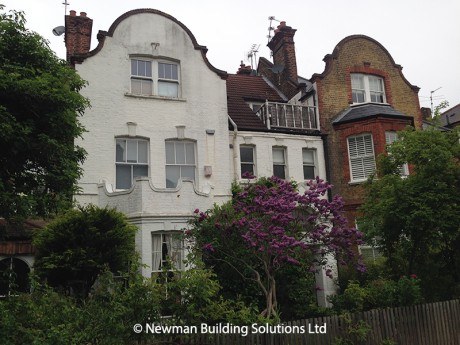 The client initially contacted two general builders who both advised that they would repair the problem by taking down the affected areas and rebuilding them. Unhappy with this suggestion, that would cause massive disruption, the client sought another solution and contacted us.
Following a survey of the property our designers specified the Twistfix Heliforce stainless steel bed joint reinforcement system, to create a deep masonry beam to distribute the structural loads, in conjunction with Thor Helical lateral restraint ties and delamination ties.
Initially the client's plan was to redecorate the front of the property retaining the white façade. However, having read about our Facade Maintenance services the property owner enquired about our paint removal and brick restoration service. Areas of the render on the "Dutch" section of the façade on the top floor were debonding so this gave us an opportunity to assess the condition of the brick faces underneath.
Following free, paint removal and render removal samples, the client took the decision to restore the brick façade to its original state.
The render on the upper floor was carefully removed using traditional methods to expose the original brickwork. Any loose mortar was also removed. Thor Helical WHO-60 thixotropic, cementitious grout was then injected into the bed joints and helical bar reinforcement installed where required.

A coat of paint softener was applied to all painted brickwork and allowed to penetrate. The paint was then removed using the Stonehealth Doff cleaning system that uses super-heated, pressurised steam. The entire process was repeated to remove any traces of paint.
Our highly skilled technicians then restored the brick faces using Total Wall Care® Brick Repair mortar.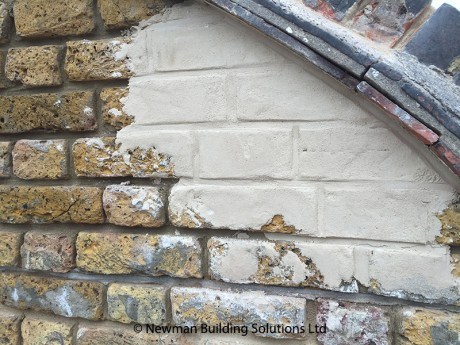 The removal of the paint and render uncovered a multitude of defects that appeared to have been hastily "repaired".
These included major damage to concrete window sills. Our team are skilled in concrete repairs and restored their structure and aesthetics.

There was also damage to the bricks in the front door arch. The damaged bricks had been filled with mortar and the pillars had lost their decorative profile. This was expertly restored using the brick repair mortar.

Custom colours were then mixed using Total Wall Care® Brick Tinting products. These were then expertly applied to match the colours and natural variation of the original façade.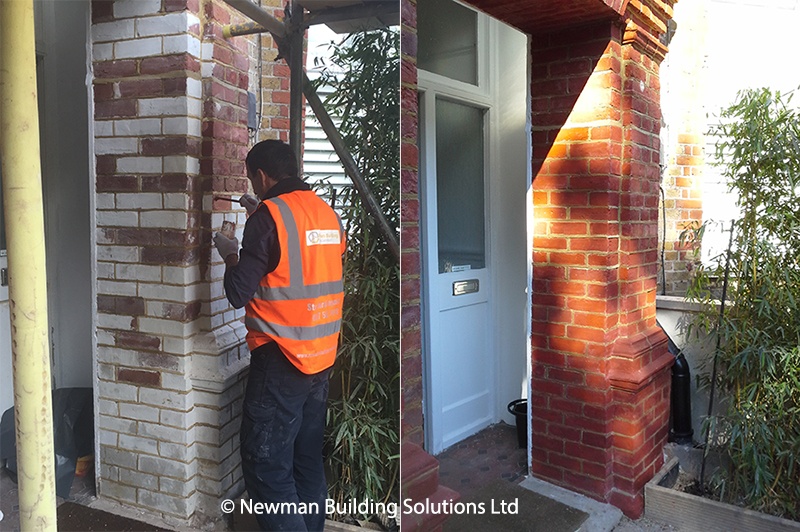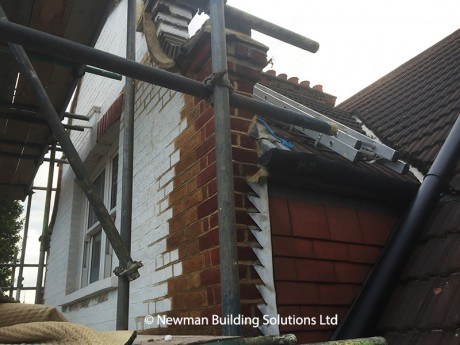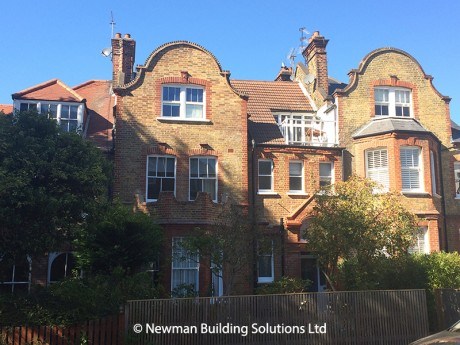 The completed restoration looks absolutely stunning and as well as having a very happy client it has prompted enquires from the owners of neighbouring properties.