---
Structural Survey, South West London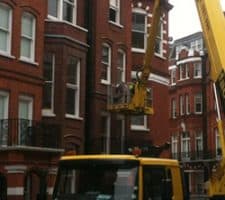 Structural Inspection, South West London
Newman's are regularly called upon to carry out Structural Surveys to diagnose Structural Defects and identify areas of masonry that require attention as well as design repair specifications that will provide a lasting solution restoring the aesthetics of the building as well as the structural integrity.
We have been instructed to survey a large prestigious mansion block near Chelsea's famous embankment in South West London.
In order to save our client vast cost savings using a range of access methods we are using a specialist lorry mounted telescopic boom and rope access to gain access to the masonry allowing the safe inspection of a range of defects without the need for tube and clip scaffolding.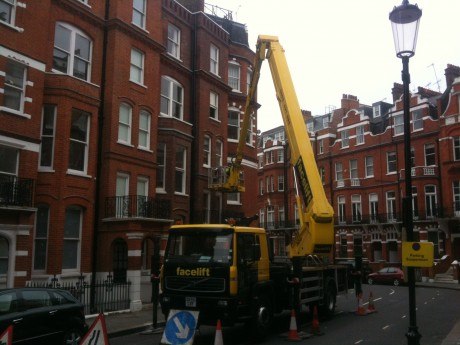 We have come across a range of Structural Defects that will require immediate attention with Lintel Failure being the most common Structural Defect to the masonry as well as Bowing Masonry and bay windows pulling away from the main structure.
The Lintels are typical flat gauged arches commonly used when buildings of this type were constructed as well as their aesthetical purpose they are extremely strong and are good load bearing lintels. Unfortunately over the years the lintels have become weaker and eventually they have lost their load bearing capacity and will require Lintel Reinforcement in order to restore their load bearing capacity and retain their aesthetic presence.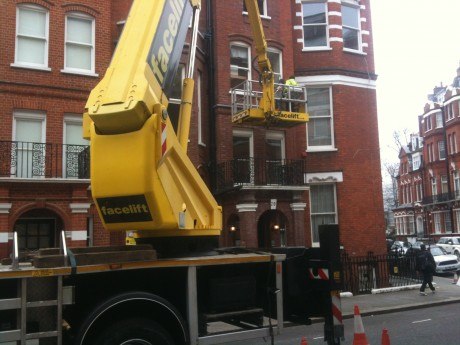 The bay windows are suffering from Bulging brick work indicating that there is little or non-lateral restraint between the floor joists and the masonry which commonly causes the  brickwork to bow outward. To restore the masonry Twistfix lateral restraint ties will need to be installed through the masonry into the floor joists to provide a permanent mechanical connection which is concealed with in the masonry.
As well as the Lintel Failure and Bowing Masonry to the Bay Windows moisture ingress is posing a severe threat to health and the internal fabric of the structure with penetrating damp present. Build of salts and black mould are present in flats on all floors, and the moisture content of the brick work is extremely high. Newman's will recommend the application of Twistfix unique Dryseal water repellent masonry façade protection cream and vast areas of new lime pointing.
We offer a total wall care solution to all of our customers ensuring that the structural integrity of the masonry is restored; we preserve the original aesthetics and provide a lasting guaranteed solution for all of our services.
Newman's can help to diagnose structural defect, cracking and movement by arranging a free Structural Survey, contact London and the South East leading structural repair specialists for Help, advice and peace of mind Call 0333 444 0154 or Email enquiries@newmans.com