---
Brick Cleaning, Stone Cleaning & More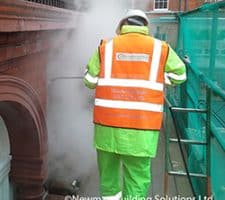 Newman's are Stonehealth Doff Approved contractors.
The Doff is a self contained system that superheats water to up to 150°C to produce steam. The pressure of this steam can be controlled by the operator to enable the cleaning of a wide range of building materials.
Because the Doff system does not use any acids or abrasives and the pressure is fully adjustable, it can be used for cleaning all manner of building materials and substrates.
Removing carbon from bricks, removing vegetation from stone, cleaning roof tiles, removing graffiti from walls, removing paint from stone, cleaning stucco, cleaning intricate detailing in brick, stone, terracotta etc
Because the temperature of the steam is so high it kills of spores in organic matter such as moss and lichen which impedes their regrowth and significantly increases the time between cleaning.
The Stonehealth Doff cleaning system is the number one choice of conservationists and listed building officers.
Click on the images in the gallery below for a small example of our cleaning work.
Visit our website or contact us today for a free, no-obligation quote on 0333 444 0154 or email enquiries@newmans.com