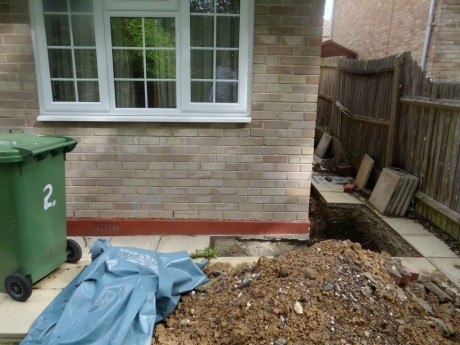 Newman Building Solutions were contacted by a local home owner who had suffered at the hands of a rogue trader, who had poorly constructed this single storey extension in surrey.
The extension had been built on inadequate foundations causing it to subside leaving the addition with cracking in various areas.
We were asked to design a scheme that would restore the structural integrity of the masonry where cracking had occurred and prevent any further subsidence.
As the homeowner had already used a large amount of their savings and a failed claim to the insurers, we monitored the movement and designed a bed joint reinforcement scheme that would restore the structural integrity alleviating the need for piling or underpinning.
Deep masonry beams were installed to the external skin of masonry wrapping around the structure along with deep masonry beams to the internal skin tying to the external structure. Crack Stitches were also used to tie separated masonry to the internal skin.
The repairs were made good with local areas of plastering and repointing.
The movement was monitored for 12 months and there was found to be no further movement and the repairs were guaranteed against failure for ten years.
To find out more about this project or for general advice contact us today.