---
Wall Tie Replacement, Why You Should Always Use a Specialist
At Newman Building Solutions we carry out a large volume of wall tie surveys across London and the South coast to properties that have had a wall tie failure of the original wall ties, but ever increasingly we are receiving more and more inquiries for wall tie surveys after new remedial wall ties have been installed, and failed.
There are many different wall ties available on the market to diy'ers and untrained installers  who see the installation as simple as drilling a hole, tightening an expander or using a resin or mastic to fix the wall tie.
In principal installation is simple, specification of an appropriate tie is also fairly simple, but to do it correctly and install a lasting permanent solution isn't if you are not experienced.
for instance here is a tie installed by a 'reputable' cavity wall insulation company who decided they would install wall ties to 9 retirement bungalows…..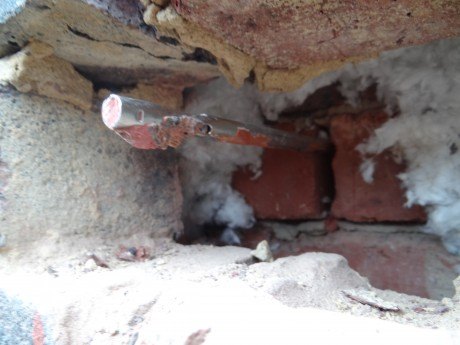 The wall tie has smashed the brick in half losing all bearing within the brick and it was found to be fixed with a red flexible caulk type mastic. This is a prime example of remedial wall tie installation carried out by untrained persons who unfortunately have failed to restore the structural integrity.
Wall ties are a vital part of your structure and should only be installed by experienced contractors.